They are our co-workers, the people in the next cubical or office, the ones we work as part of a team on a project, the ones we go to lunch with. And we talk with them; we learn about the daughter just accepted into college, we hear about wedding plans, divorces, the new recipe we tried over the weekend, the good golf game on the back nine. We're with our coworkers for at least eight hours a day, and we grow to like each other, we care, we want to hear about the soccer tournament or dance recital. And there are times when we learn that a coworker or a family member is sick. And when it's unexpected, it's unsettling.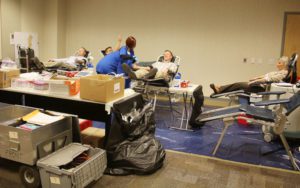 In March of 2010, Tom Amodeo, a long time project manager at SAI and well liked colleague suddenly became ill. SAI employees wanted to do something to help. They knew that he was ill and in the intensive care unit. They thought about his wife and his three young children and wanted to do more than offer a prayer or kind thoughts. SAI brain-stormed ways to offer assistance. They considered monetary donations; a fund raiser spaghetti dinner; gift certificates for maid/grocery shopping services for the family as their time was now spent at the hospital.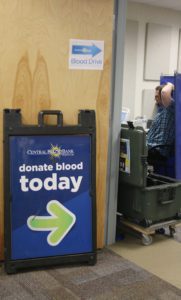 And then when SAI learned that Tom was receiving numerous blood transfusions, they decided to hold a blood drive as a way to not only honor Tom but to help replace the blood he had used. We hoped that this donation, in addition to Tom's close colleagues offering their individual help, would ease the family's burden. On an early spring Friday in March 2010, SAI employees rolled up their sleeves and gave blood. We all hoped that Tom would be on this way to recovery, and if the blood donations helped, all the better.
Life is forever undulating, sometimes not in the direction we had hoped for. Although employees were saddened when Tom passed away April 1, 2010, they wanted to continue with the blood drive as a way to commemorate Tom and to express their gratitude for his work and friendship.
The blood drive seemed a natural way to help other employees as well. In October 2014, Brett Rusnock and his wife welcomed a baby boy. Brett's coworkers in the highway department were excited about the birth of Rowan. Shortly after his birth, Rowan was diagnosed with a congenital heart condition that required numerous surgeries, hospital stays, and eventually a heart transplant. And because SAI employees wanted to help in ways beyond cards and thoughts and prayers and personal gifts, they included Rowan as part of the annual blood drive.
Although SAI was saddened with the news of Rowan's passing in the spring of 2018, they found comfort in volunteering as a team. It's become a tradition. Each spring, employees roll up their sleeves and donate blood. They talk about Tom or Brett or Rowan and are grateful for the opportunity to volunteer and contribute in some small way to their community.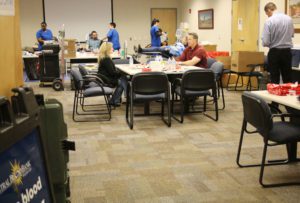 Some believe that people who volunteer are more engaged employees; some evidence suggests that people who make a connection with their fellow coworkers are more invested in their work and the clients they serve. While these assumptions may or may not have empirical evidence, what is certain is that SAI employees care about their coworkers, and this genuine caring reaches beyond the cubicles and offices at SAI, it extends to their clients and the communities they serve.
If you'd like to donate blood, please visit central blood bank at www.centralbloodbank.org and schedule an appointment.