Welcome to SAI! We are a transportation-focused civil engineering and construction management firm specializing in bridge and highway design, structural inspection, traffic engineering, design management, and construction management and inspection.  A leader in the field of transportation design and construction management, SAI has provided government and private sector clients with innovative, accurate, and reliable design and consulting engineering services for nearly 60 years.
2021 was a big year for SAI Contractor Services! SAI has been working with several contractors on design build bridge replacement projects like Kelly Road, emergency slide repairs, bearing replacements, demolition/erection plans, traffic control…and recently so close on the Cheat River Design-Build for WVDOH finishing less a than $1 million behind the winner with third place roughly $20 million behind SAI on a $148 million project. That's only 0.6% of the win. Good luck to the wining team on that project. To further our services to contractors moving forward Jason DeFlitch will be moving into our Contractor Services Manager position. He brings over 20 years of experience on award winning projects as both a designer and project manager. Ray Henney will continue his work with contractor services as SAI's Client Service Manager.
Project Spotlight: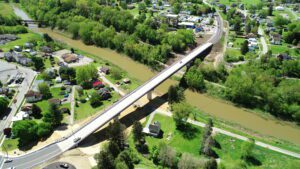 SAI performed an alternatives analysis, preliminary engineering, and final design for the replacement structure of a 79-year-old structurally deficient bridge carrying SR 0436 over the Mahoning Creek, Buffalo and Pittsburgh Railroad, and the Mahoning Shadow Trail on a new alignment in Jefferson County, Pennsylvania. The new bridge is an 810ʹ four-span steel haunched (weathering steel) multi-girder bridge. .  Ornamental pedestrian railing along with highway lighting enhances the bridge's appearance. Form liners and aesthetic rock treatments were provided for the substructure, ...
Read More