For over a hundred years the Mon Wharf has been part of the City's commerce and leisure in Pittsburgh's daily life on the northern bank of the Monongahela River. Riverlife Pittsburgh, an organization dedicated to riverfront revitalization and sustainability, sought to revitalize the riverfront area by connecting it to pedestrian and bicycle lanes downtown and existing trail systems by developing the Mon Wharf Switchback Pedestrian Bridge.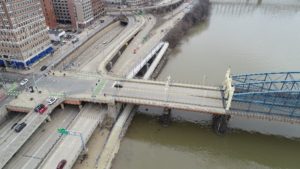 Riverlife contacted SAI to see how we could streamline the design after initial construction costs came in over budget. SAI embraced the challenge because we understand the important social and economic contributions transportation connectivity provides. As a local firm in Pittsburgh, SAI values any opportunity to have a greater hand in shaping the future of the community through engineering design.
SAI met Riverlife's goal of providing pedestrian access to the Mon Wharf riverfront while maintaining budget. The final arrangement minimizes the footprint of the bridge in an extremely tight construction area along the 376 highway.
SAI designed the switchback to meet the site's needs supported by a single foundation for both upper and lower ramps and micropiles socketed into rock to withstand flooding and ice forces from the Monongahela river. Additionally, the micropiles for the foundations reduced the vibration placed on the existing ALCOSAN brick-lined sanitary sewer line.
The end project is a 607' long by 12′ wide two girder system structure with a concrete deck and railing on a switchback configuration that provides pedestrian and cyclist connection between Smithfield Street Bridge and the Mon Wharf, and ties into the Great Allegheny Passage and Three Rivers Heritage Trail.