Design Build Structure Replacement with Accelerated Bridge Construction (ABC)
Moon Township
Allegheny County, Pennsylvania 
 Project Manager: Jason DeFlitch, PE
Phone: 412.392.8258
Cost: $3,600,000
Completion Date: 2019
SAI was responsible for the design build Structure Plans, Traffic Control Plan and Signing & Pavement Marking Plan for a bridge replacement on SR 0051 (Stoops Ferry Road) that traverses over Flaugherty Run.
The physical features of this project include:
Removal of an existing single span reinforced concrete frame bridge with a sidewalk on one side.
Replacement was a new single span pre-stressed concrete spread box beam bridge with a sidewalk on one side.
Structure utilized prestressed concrete box beam modules delivery to the site with the deck attached. An Ultra High Performance Concrete (UHPC) joint was then constructed between modules.
The concrete spread box beam was 57'-8" (out/out) and maintained three (3) 11-0' travel lanes, two 8'-0" shoulders, and a 5'-8" sidewalk on one side.
The substructures were integral abutments utilizing precast pile caps connected via UHPC joints for phased construction.
Other features of this project include:

The design build traffic Control Plan consisted of six (6) phases of construction.
A car and truck detour plan was also part of the design build plan.
The detours were implemented over a weekend to launch the bridge in place.
Utility relocation was a critical path to the success of accelerating the project.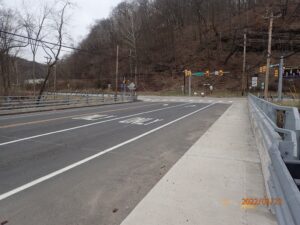 Looking over New Structure Toward Adjacent Intersection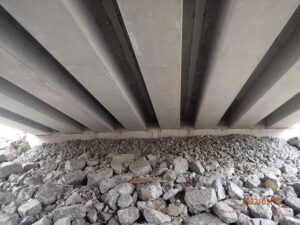 New structure with UHPC Joints
Project Owner: Pennsylvania Department of Transportation, District 11-0
Contact: Ryan Surrena (FAY, S&B USA Construction)
Phone: 724.265.4600