When you talk with Mara Pritchard (Project Manager), the conversation, at times, will turn to her church – whether it's the Fish Fry Friday where she serves as a waitress and food runner, or her choir practice, or her cantoring at mass. Volunteering is just who Mara is.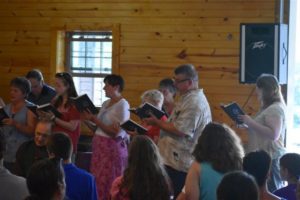 What began as required service as part of her confirmation preparation has transformed into a lifelong commitment. Over the past 20 years, Mara has served as an usher, a pastoral council member, choir member, a facilitator in the Diocese reorganization efforts, a cantor, and hospitality leader at her church. And in 2017, Mara convinced her sister to forego Black Friday shopping to volunteer with Amen in Action, a collaborative Christian effort to make a million meals to be distributed to the homeless and those in need in Western Pennsylvania through local foodbanks. Her enthusiasm is contagious, and Mara has reported that her nieces and nephews want to join her next Black Friday so that they can volunteer as a family.
It's the need to share and to provide comfort that seems to drive Mara. A few years ago, Mara served as part of a women's prayer group that made prayer shawls for those who sought comfort when they were seriously ill.
In addition to her work with her church, Mara has served on the Board of Directors for Big Brother Big Sister of Beaver County, and while she no longer serves on the Board, every Christmas she quietly solicits fellow SAI employees to donate a gift for the children, an effort that many fellow SAI employees enjoy.
Mara notes that people who see you volunteering often consider the volunteer to be selfless, when in reality, volunteering has its selfish returns. Mara acknowledges that volunteering pulls you from your comfort zones, hones your leadership skills, strengthens your problem-solving skills, and introduces you to different viewpoints. "As an engineer, I am a natural introvert, especially in large groups. For me to stand in front of 300 parishioners and sing, sometimes as a soloist, was something I never thought myself capable. I approach each day at work knowing I can do something that I never thought possible."
Mara's volunteering stories are engaging. On a recent Friday during lent, Mara was preparing to take a half day vacation day so that she could help prep for the Fish Fry. Her stories about having to organize the food orders, dealing with hungry customers who want their fish, well, now, and how to explain to a customer that the kitchen is out of fried fish (imagine having that conversation at a Fish Fry) make people smile and nod in understanding. And in many ways, the volunteer experience is at times what makes us human.
If you'd like to reach beyond what you see yourself as capable, volunteer. Contact your local church, food bank, or local Big Brother Big Sister.