Founded well over a century ago, the Boy Scouts of America teaches skills such as working in the outdoors, teamwork, and leadership. And for Eric Setzler, PE, Assistant Department Manager – Structures, an Eagle Scout himself, it was a natural to volunteer as a Den Leader for Cub Scout Pack 343 at St. Raphael's Church in Morningside. As an adult, Eric had continued his affiliation with BSA, working three summers in college at a Boy Scout summer camp and serving as an Assistant Scoutmaster for a troop in Mentor, Ohio. So when his son, Andrew, entered first grade last year, Eric decided to involve him in scouting.   For Eric, scouts is a wonderful opportunity to enjoy the outdoors and camping, especially important for Eric and his family who live in the city – scouts allows them to seek out opportunities to enjoy nature.
As den leader for the second graders (his son's den), Eric supervises 8 or 9 children. The den meets every Wednesday evening during the school year, and on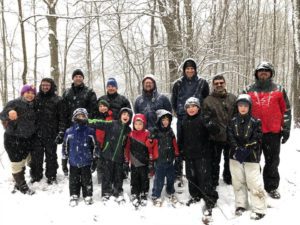 weekends, the den enjoys hikes, service activities, marching in parades, visiting fire stations, going sledding and swimming (not necessarily together), and anything else energetic second graders might enjoy. As the den works on various adventures that lead to earning a new rank at the end of the year, they work with children from a variety of Pittsburgh neighborhoods, schools, and backgrounds. Eric notes that "it is important for the kids and for us adults to be around others who are different from us so that we can learn from their experiences."
And it's not just spending time with Andrew, certainly a plus, and for the father/son team to enjoy camping, it's also about engineering. For Eric, "being an engineer is more than just designing the most efficient girder, pier, etc. Particularly in the public infrastructure work that we do, being a good engineer means providing solutions to challenges that benefit the public." Eric notes that "being involved in community organizations and activities, such as the Boy Scouts, is one way to meet a wide variety of people and learn about them and their needs."
If you'd like to volunteer in the Scouts, please call the Boy Scouts of America or the Girl Scouts of the United States America.